West Coast Recycle is a family-owned business that survives and thrives in the certain age of the economy for a decade that is based in the Bay Area. We took our business online, so clients take less effort to customize their choices of service. Individual houses that need dumpsters service can live their life better now with us! We offer a variety of sizes and services for both individuals and commercial orders. Our core values zoom on the convenient experience and streamline the entire complex process from haulers to the dumpsters.
We care about the environment and understand the significance of doing everything possible to help keep our planet clean. The waste we remove from your project in one of our dumpsters is recycled at the highest possible rate with modern technology and we are averaging over 75% recycle rate.
By choosing transfer stations with the best technology for recycling, we are able to both protect the environment and deliver cheapest dumpsters.
AFFORDABLE PRICE IN BAY AREA
We strive to provide the most affordable prices in the Bay Area with varietal dumpster sizes, included delivery, landfill charges, specific weight limit and pick up
FAST DELIVERY
We offer same & next day service for your convenience.
QUICK TURNAROUND
Our team is committed to providing quick turnaround times and great service
Want More Business for your Hauling Company?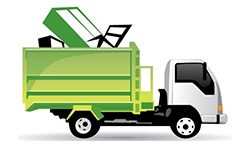 Let your customers order online with Dumpster Market.
We took the marketplace live at the beginning of 2018 and now have over 100 haulers across the country participating in our marketplace.  We've processed hundreds of orders with great feedback from both haulers and customers.
The first group of haulers using our marketplace loved the functionality of it so much that we were asked to re-purpose the software so that they could use it to capture online orders from the customers that came to their own website.  We did just that with the Dumpster Market Online Ordering system (also known as DMOOS).
  This lets haulers put a "Book Dumpster Online" button on their own website from which their customers can place instant online orders.  Along with this button the hauler gets the same functionality for processing orders and managing available inventory that we developed for our marketplace.
West Coast is always spot on for me as a small landscape contrator. I've used them on multiple occasions, in different cities, and I've never had an issue to date. Concrete, soil, general construction debris...they have you covered. Their prices are competitive and they will work with you to accommodate your specific job needs. The usual time from drop off to pick up is a standard 7 day rental period but if you need a pick up sooner, they will find time in their busy route to come and haul it away!...
I was building an in-law unit and rented a dumpster from West Coast for my construction. Emily were extremely responsive and easy to work with. From start to finish, they were very accommodating to our frequently changed schedule and made every effort to pick up and drop off the dumpster even with short notice. I would definitely work with them again for their fair price and great service.
Affordable, quick response time, and very professional. I recommend them! We had a dumpster dropped off at our house for misc items that have been cluttering our space. Got the dumpster and thought oh man we went too big but in the end we filled it up good. Well definitely be using them again
Want to chat with us about your project?
Just call 1-844-728-3533
And we'll be happy to lend our honest opinion.